New Zealand
Bike Diary, Part Three

Reflections from my bike tour of New Zealand.
February 22 1999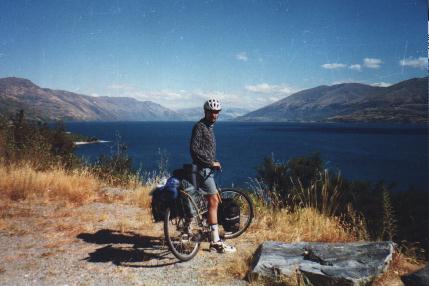 I worried that the weather would be lousy, but instead it has turned out to be of an almost ungodly perfection; big, bright, blue, cloudless, sunny but cool skies that go on and on. And I feel like I am going on into scenic overload; glaciers, then miles down the road forests, wetlands, and tropical beaches, followed the next day by huge, big, beautiful lakes that are intensely blue. It almost defies description. I had a bit more oversees adventure this past week coming down with an intestinal bug that caused all sorts of unpleasant intestinal, digestive, expulsive problems, as well as draining your energy level. By the time I realized I had this, I was 300 miles away from the next town that had doctors and pharmacies. Since the symptoms were in their mild stage, I opted to push on rather than take a bus. Yesterday morning I was only 90 miles from the town of Wanaka, which had doctors, etc. So I got early and pushed ahead. I thought that the only major challenge for me was Haast Pass, which ascends to 560 meters. I opted to walk up the two and a half miles to the summit, and cycle on from there to Wanaka, which after that was sixty miles away. Alas, I was misinformed about their being no bigger hills-there were considerably more, though the weather and scenery were spectacular beyond belief, and about 14 miles short of Wanaka, feeling dizzy and all out of energy, I flagged down a vehicle. A very friendly and kind road maintenance worker took me and my bike into town, where I opted to check into a motel so I could get a thorough and decent rest. The motel clerk was nice enough to get a doctor, and I got my prescription. So I guess I learned a lesson about patience and the physical limits of my human endurance. The west coast of the South Island during good weather is one of the bike touring glories of Planet Earth. It does get boring for certain stretches, but just when I am on the verge of bailing out, I go around a bend and see a powerful and dazzling conclusion.
February 27, 1999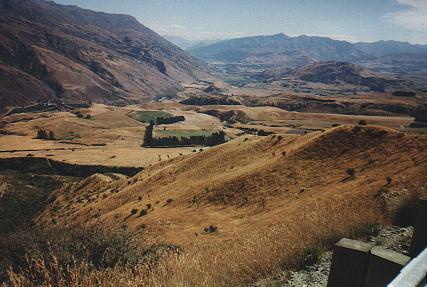 There are two options for cyclists going from Wanaka to Queenstown. One is the long way, on highway six, which goes east, through a few townships, south towards the city of Cromwell, and then back west towards Queenstown. Or you can go the hard way, which is also direct, over the Cardrona Pass, which ascends to 1200 metres above sea level, about 900 from my starting point in Wanaka. And it's unpaved. The experience is exhausting (going up), exhilarating (the view from the summit, the highest on the South Island), and terrifying (going down:steep descents, sharp turns on dirt roads).
February 28, 1999
I stayed one day in the South Island's pricey tourist mecca, Queenstown, and passed up the opportunity to take a chartered bus to one of the world's greatest national parks (Fiordland) in order to take the time necessary to complete the trip at the south end of the island at Invercargill. It wasn't an easy decision to make, and there is nothing between Queenstown and Invercargill but sheep farms, but it was ultimately satisfying in the sense of having completed a mission, to cycle the length of one of New Zealand's islands. I did it, 843 miles, about 780 on the South Island, in fewer than two weeks. I proved to myself I was capable of certain feats of endurance and challenge, and I felt empowered to make a vow to myself and God that I would do whatever it would take to have the resources to become a world-class explorer. My bike has now been boxed up and shipped to Auckland. Right now I am just hanging out in Christchurch, the most upscale, culturally progressive and elegant city in the country. After wandering through their magnificent and enormous city park, a veritable Disneyland of botanical landscaping, I found myself at a free classical music concert sponsored by Canterbury College and Christchurch's own opera company. Selections ranged from Gershwin to Puccini. Quite a treat. Today I head to the northern tip in order to hike their other famous national park, Abel Tasman, on Tuesday. Then it's back to Auckland the next day off to Vancouver on Friday.
To e-mail with comments or questions: gratitude101@hotmail.com